Process Automation Simplified
АgileMode is a software platform for business process automation. It separates an organization's business processes from the underlying IT systems they are executed in, so as to enable the next level of flexibility and adaptability.
PRODUCT AGILEMODE BUSINESS
PROCESS AUTOMATION PLATFORM
Customer expectations are changing when it comes to responsiveness. Competitors are becoming quicker to adapt. Industries are changing more often than ever before. Today, business users can no longer wait for IT to deliver on their needs—and want to be in control of their own solutions instead. What is a good way to shorten the systems development life cycle (SDLC) without having to re-invent your infrastructure?
Business Process Automation Platform
Separates your business processes from the underlying IT systems that they interact with.
Enables your line of business to innovate and manage change independently of IT.
Automates complex, multi-step, multi-user, and multi-system processes in one user interface.
Provides business process users with access from anywhere, anytime, and on any device.
Introduces the next level of traceability and benchmarking for your business processes.
Support digitalization strategies enabling fast automation of existing and new business processes
Allows cost-effective implementation of new business models
Uses existing internal system
Uses information that has already been stored in internal databases
Support effective business processes
Allows for new processes to be generated and implemented easily
Automatically generates the business flow by utilizing "Low code" programming
Allows for automatic generation of documents
Utilizes existing systems rationally and fully
Allows for integration with Software AG Enterprise Service Bus
Is fully integrated with ARIS – software for describing business processes
Allows for building a truly smart layer by introducing Deep Learning and Cortana Intelligence
Our Highly effective approach towards digitalization allows for rational and full utilization of existing IT infrastructure when devising new processes which are much more efficient and effective.
ICB has now developed an agile enterprise-class software system that manages business processes, documents, customer and supplier-related information in one single platform. АgileMode is an innovative software solution specially designed to address the needs of today's dynamically changing businesses. The solution is based entirely on reliable Microsoft technologies and is delivering advanced workflow task management, CRM, document management and collaboration capabilities.
АgileMode is practically designed of tree autonomous components that could be installed and running separately in the organization but could also be easily integrated in one solution in order to deliver additional value to the business users. Those sub-systems are: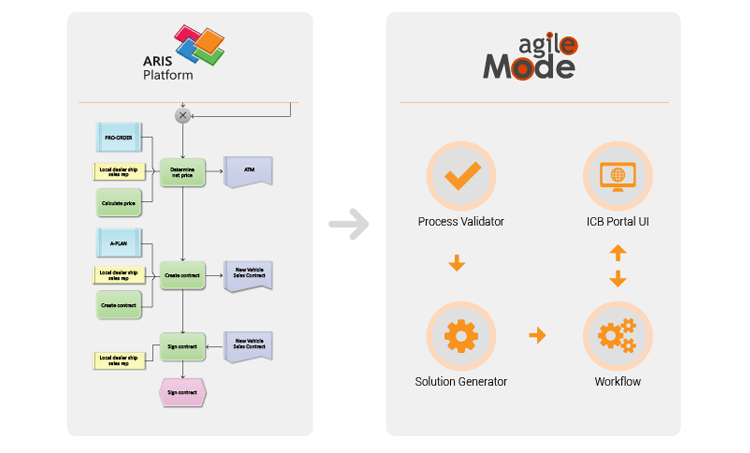 A web-based interface that is automatically generated from business process models. This is a next-generation solution that builds automatically a software solution without writing a single line of code –  just using graphical processes representation. The main purpose of AgileMode is to manage complex workflows and tasks within the organization while keeping the management up to date with tasks and projects completion status and employees performance. Each process step is precisely described graphically with tasks to be performed, responsible employees, input and output documents and timeline. This information is extracted directly from the business process model and is deployed in the portal screens in an automated manner. This way changes to the business process are deployed directly in the software with a few mouse clicks which saves time and costs for additional development.
MICROSOFT SHAREPOINT-BASED
Each task in the workflow process is related to a set of input and output documents, regulations and internal procedures that employees need to follow. AgileMode utilizes the existing functionality in Microsoft SharePoint in order to provide advanced document management functionality supporting the process execution. This includes document templates, version handling, metadata definition and extended search capabilities. Documents related to a particular task are either attached or generated automatically depending on the action required in the step. When the document is generated from the system it receives automatically filled in metadata including type of document, creator, date created, department, product related and etc.